Portfolio
We have projects that cover the DC, Maryland, Delaware, and Virginia area. Below is a sample of our work. Browse the projects and contact us for your next sealing or restoration project.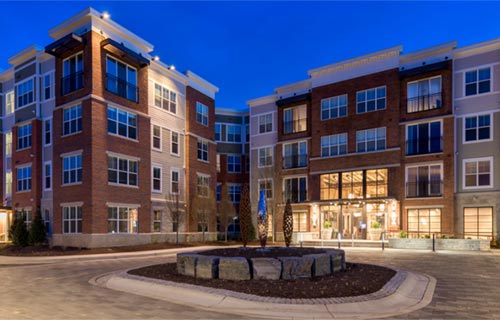 The Vine – Fulton, MD
This upscale apartment complex located in Fulton, MD is called The Vine. Calvert Restoration spent approximately one year completing the waterproofing package. This included various types of waterproofing systems along with full interior and exterior joint sealant scope. Calvert Restoration also installed traffic coating in the garage onsite.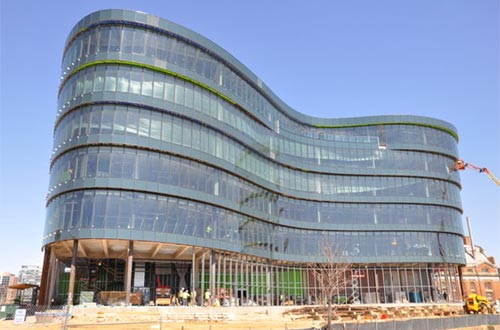 DC Water Headquarters – Washington, DC
DC Water Headquarters is located in southwest Washington, DC. Calvert Restoration performed installation of silicone sealants at exterior curtainwall over the course of five months.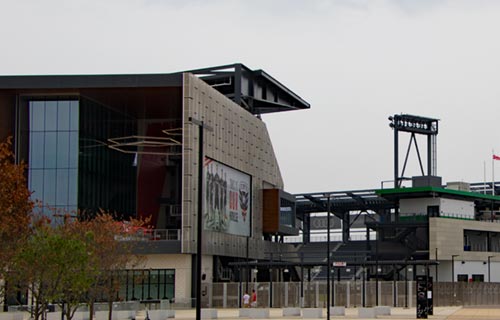 Audi Field – Washington, DC
Audi Field, home to Major League Soccer team DC United is located in southwest Washington, DC. Calvert Restoration spent five months onsite installing exterior curtainwall silicone sealants.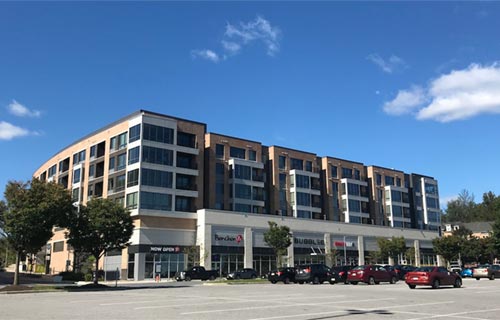 Parcel C1 & C2 – Columbia, MD
Parcel C1 & C2 is a mixed use building located in Columbia, MD. Calvert Restoration spent a year and a half performing below grade waterproofing, joint sealant install, traffic coating, and installed interior and exterior expansion joints.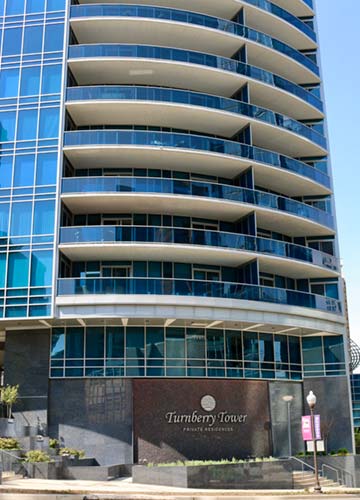 Turnberry Towers – Rosslyn, VA
Turnberry Towers was an 8 month long project that included installing exterior weather sealant around curtain wall structures and balcony tiered units. Turnberry Towers is an elite private condominium building in Rosslyn, VA.
Calvert Restoration applied skilled craftsmanship to complete the project under an intense deadline.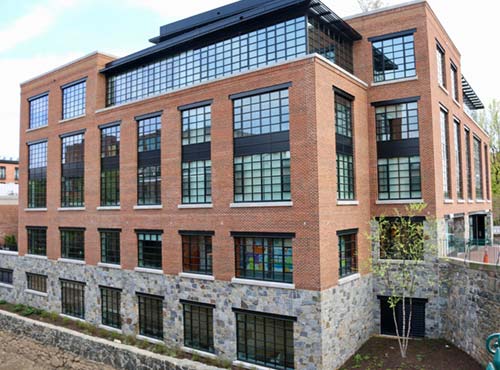 C & O Canal Office Space – Georgetown
C & O Canal Office Space was a 2 month long project on which Calvert Restoration applied caulking to window systems and storefront frames. This beautiful building in the heart of Georgetown is home to premier office space and is situated along the C & O Canal.
Crowne Plaza – Annapolis, MD
Crowne Plaza Annapolis was a three month endeavor in which Calvert Restoration pressure washed and cleaned the entire exterior facade; we then re-caulked all masonry joints and window perimeters. We also installed elastomeric coating over existing concrete surfaces.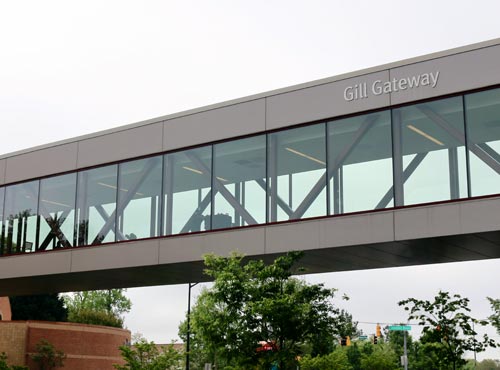 Gill Gateway – Annapolis, MD
Gill Gateway connects a medical building to the hospital at Anne Arundel Medical Center.  Calvert Restoration furnished and installed silicone caulking within the metal panel-cladded system.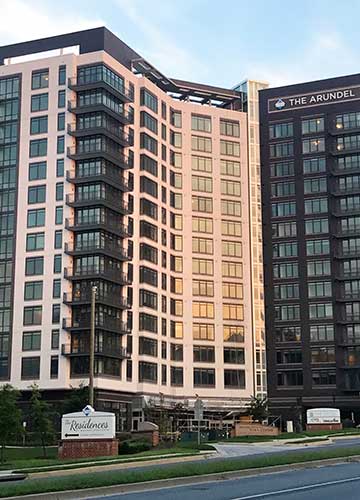 The Residences At Arundel Preserve – Hanover, MD
Calvert Restoration spent 4 months working on this upscale hotel and luxury condominium building located in Hanover, MD. This project involved complete exterior sealant install around windows and curtain walls.